NSS
National Service Scheme (NSS)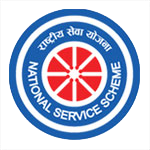 About NSS The National Service Scheme (NSS) is a Central Sector Scheme of Government of India sponsored flagship for public service program conducted by Ministry of Youth Affairs & Sports, Govt. of India. On 24 September 1969, the then Union Education Minister V.K.R.V. Rao launched the NSS at 37 universities all states, the scheme provides opportunity to the graduate & post graduate students at colleges and University level of India to take part in various government led community service activities & programmes. The sole aim of the NSS is to provide hands on experience to young students in delivering community service.   NSS Badge The symbol for the NSS has been based on the giant Rath Wheel of the world-famous Kunark Surya Mandir (The Black Pagoda) situated in Odisha India. The wheel portrays the cycle of creation, preservation and release. It signifies the movement in life across time and space, the symbol thus stands for continuity as well as change and implies the continuous striving of NSS for social change. The eight chakra's in the wheel represents Ashtha Prahar (24 hours) of a day. The red colour indicates that the volunteer is full of blood lively, active, energetic and full of high spirit. The navy blue colour indicates the cosmos that volunteers should calm ready to contribute its share with discipline and courageous and express contribution for mankind services. NSS Motto NSS motto is NOT ME BUT YOU, that expresses the essence of democratic and upholds the need for selfless service and appreciation of other man point of view and consideration for fellow human being for the upliftment of welfare of the society. Aims and Objectives of NSS The programme aims to instilling the idea of social welfare in students, and to provide service to society without bias. NSS volunteers work to ensure that everyone who is needy gets help to enhance to lead a life of dignity. In doing so, volunteers learn from people in villages how to lead a good life despite a scarcity of resources. It also provides help in natural and man-made disasters by providing food, clothing and first aid to the disaster's victims. Volunteers should develop the personality through community services like …….
To work among people
To engage in creative and constructive social activities
To enhance the knowledge of himself and community through confrontation with reality
To gain skills in the exercise democratic leadership
To put his scholarship to practical use in mitigating at least some of the social problems
To gain skills in programme development to enable for self employment
To bridge the gap between educated and uneducated masses
To promote the will to serve the weaker section of the community
Duties of NSS Volunteers
To establish report with the people in the project area.
Identify needs, problem and resources of the community.
Plan proramme and carry out the plan.
Relate his learning and experiences towards finding solutions to the problem.
Record the activities in work diary practically and assess the progress periodically.
Code of conduct for NSS volunteers
All NSS volunteers shall work under guidance of a group leader nominated by the programme officer.
They shall make themselves worthy of the confidence and co-operation of the group community leadership.
They shall scrupulously avoid entering on to the controversial issue.
About NSS Unit of the College
Total number of volunteers: 100
Total number of students permitted for special camp: 50
Total number of Units: 01
Total number of Program officers: 01
Name of Program officer: Dr. R.D. Gore
Committee members
| | | |
| --- | --- | --- |
| Sr. No. | Name of the member | Designation |
| 1 | Prin. Dr. S.V. Koti | Chairman |
| 2 | Dr. R.D. Gore | Program Officer |
| 3 | Dr. S. P. Nawale | Member |
| 4 | Dr. Mrs. R. M. Ovhal | Member |
| 5 | Dr. G. U. Todkari | Member |
| 6 | Dr. A. M. Jadhav | Member |
| 7 | Dr. V. A. Gargade | Member |
| 8 | Miss. V.V. Dhobale | Member |
| 9 | Mr. R. N. Nawale | Member |
Extension activities and Institutional Social Responsibility through
Contribution of NSS:
There are two types of activities run by NSS unit as Regular Activities(120 hours) and Annual Special Camp(120 hours). All the NSS Volunteers who have served NSS for at least 2 years and have performed 240 hours of work under NSS are entitled to a certificate from the university under the signature of the Vice-Chancellor and the Programme Coordinator. The Annual camps are known as Special Camps. Camps are held annually, funded by the government of India, and are usually located in a rural village or a city suburb. Volunteers may be involved in such following activities like:
Organization of street play and other awareness programs for eradication of Dowry system and women empowerment.
Organization of International Yoga Day.
Organization of blood Donation camps.
Organization of Health Education Programs for youth.
Organization of awareness rally for Pollution and cleaning.
AIDS awareness program and celebrated AIDS day.
Organization of Tree Plantation program every year.
Participation and organization of programs for social benefit like tree plantation program, Blood Donation camp, social awareness programs, Road safety week, cleaning drives etc.
Organization of voters awareness program and celebrated voters day.
Participation in Pulse polio program organized by Health department, Govt. of Maharashtra.
Organized cleaning drives in and around the campus and participation in Swaccha Bharata Abhiyan.
Celebrated birth anniversaries and death anniversaries of National leaders.
Organization of seven day's special youth camp on social issues.